2019 National Youth Chess Championships Report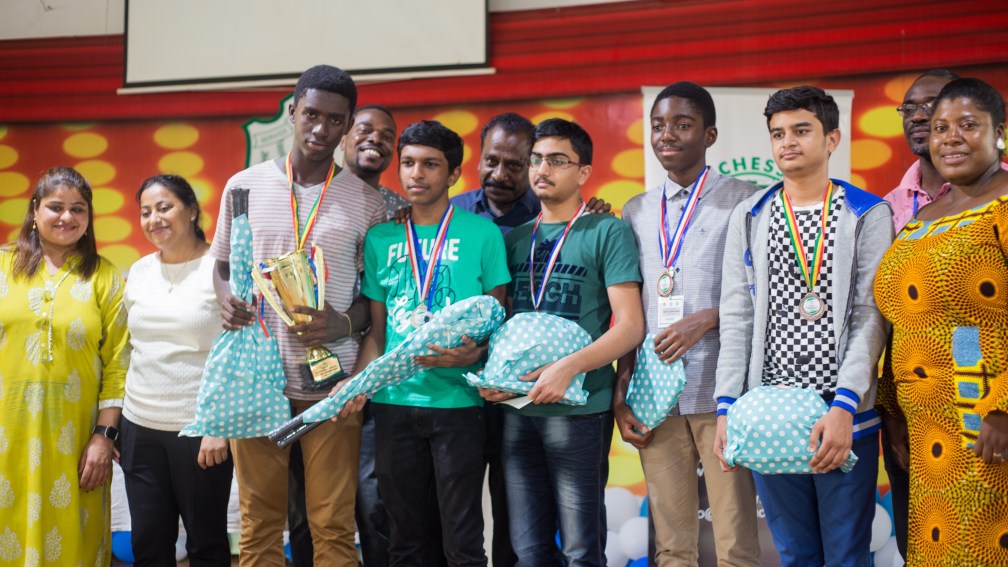 There was an exceptional show of talent at the 2019 National Youth Chess Championships which took place at DPS International School Auditorium on the 8th of June, 2019 featuring over 90 players in 7 different age categories namely; under 10, 12, 14, 16, 18 and the new U-8 and girls-only categories.
A champion's beauty is next to impossible to describe directly and hence deserve the acknowledgement for such exceptional performances. This year's event saw a new set of winners for all categories which doesn't only show the competitive nature of the event but also the room for improvement in each of these categories.
Joseph Sovereign, a rising prodigy from Achimota Senior High School toppled defending champion Rohan Karamchandani of Ghana International School with a splendid 5 points out of 5 performance.
An outstanding performance from Joshan Shunjaiy of host school Delhi Public School secured him the top spot for the U-16 category a position held by his school mate Larry Vandyke who took the second spot this time.
The girl's title went to Angel-Jordan Quansah of International Community School as she secured 3.5 out of 5 points in the under 12 age category. We also witnessed a great show of talent by Enoch Nenyo Kpodzi from Great Stars Montessori as he displaced defending champion John Allotey of Basics International to second place in the Under 14 category.
The U-12 category was won by the adventurous Neequaye Jeffery from BASICS International and will surely be crowned the new 'King of Chorkor'. He took the place of Alexis Rusquet of Lycee Francais d'Accra who didn't participate in this year's edition.
The unrivaled passion and determination shown by Tianjie Gao of Ghana International School ensured he took home the under 10 national title previously held by Rohit Godhwani of DPS International.
The fearless and courageous 6 year old Dave Quansah Acheampong won the under 8 category with a perfect score. The young chap from Jack and Jill School is the first to hold this title as it's the first time the under-8 championships is being held.
All participants showed great enthusiasm for the competition and were focused while playing the matches. The matches clearly brought forth the eagerness with which our youth are building their skills. Congratulations to the winning participants who made their families, schools and Ghana proud allowing them to grab some awards in the form of trophies, medals, and special prizes.
GCA wishes to thank FIDE Development commission for supporting the initiative, DPSI for hosting the event and also to the Chairman of B5 Plus Ghana Limited Mr. Mukesh Thakwani who provided special awards for all medalists.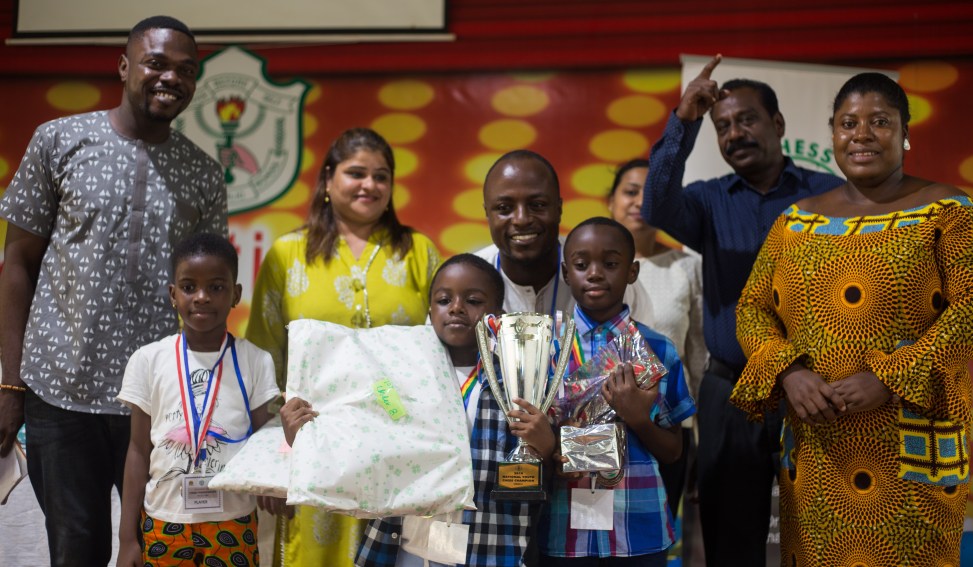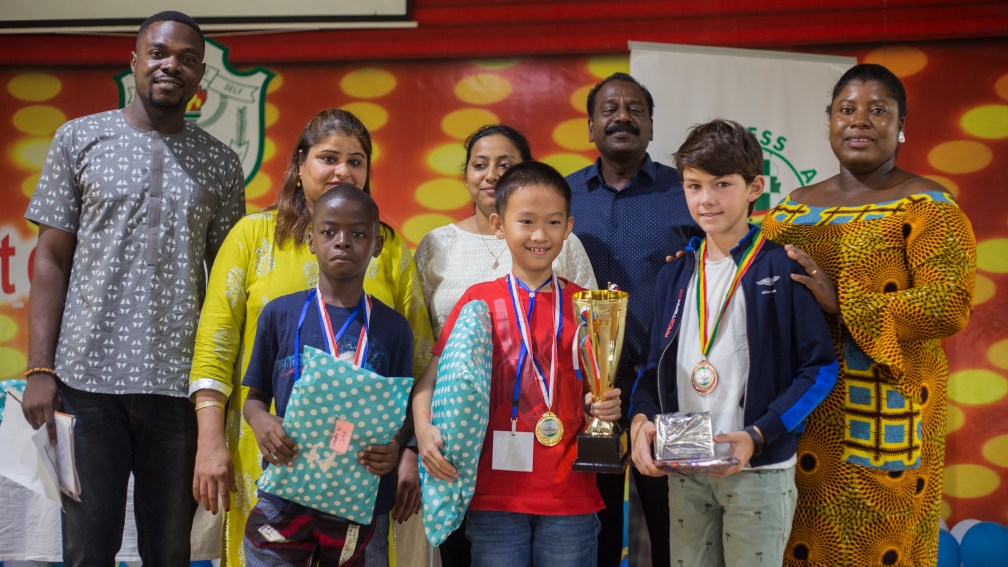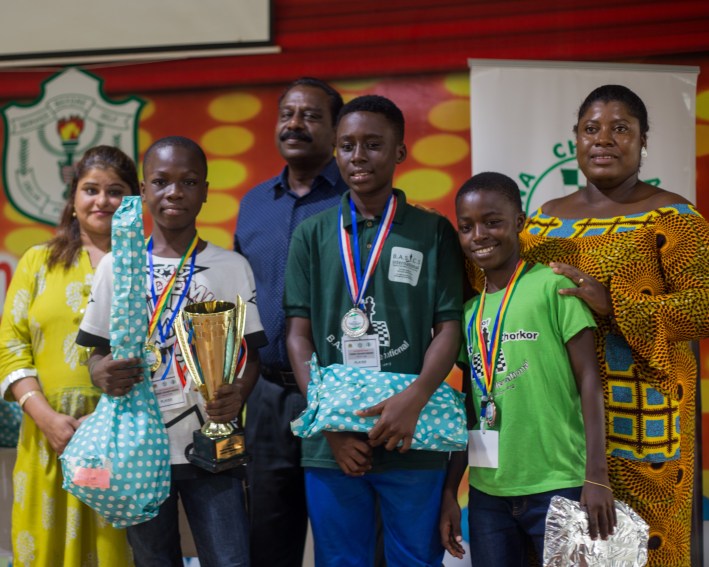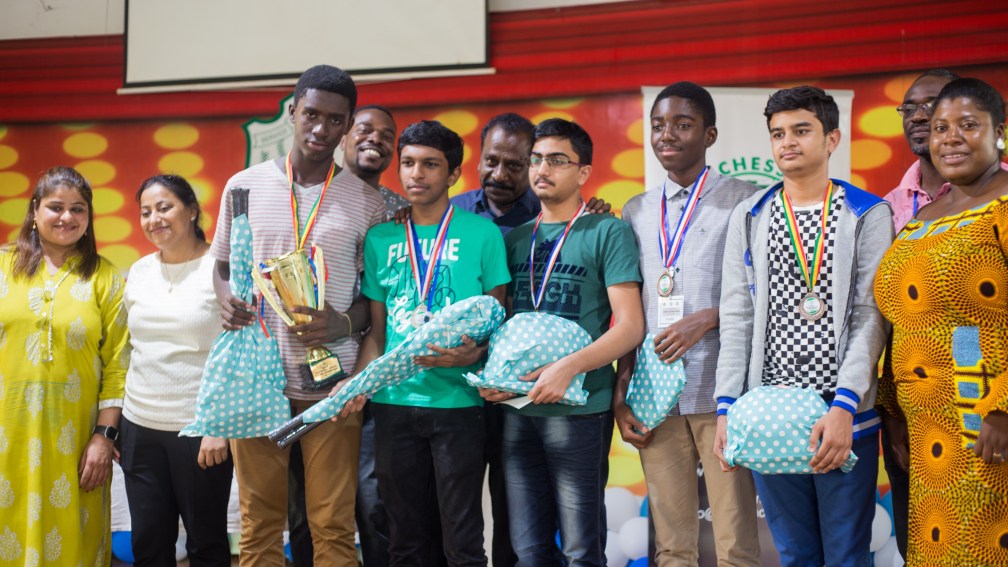 Below is the full list medalists
| | | | |
| --- | --- | --- | --- |
| CATEGORY | AWARD | PLAYER | SCHOOL |
| | | | |
| Under 18 | Gold | Joseph Sovereign | Achimota Senior High School |
| | Silver | Rushikesh Eaga | Delhi Public School International |
| | Bronze | Malav Daftary | Delhi Public International School |
| | | | |
| Under 16 Awards | Gold | Joshan Shunjaiy | Delhi Public School International |
| | Silver | Larry Vandyke | Delhi Public School International |
| | | | |
| Girls Awards | Gold | Angel Jordan | International Community School |
| | Silver | Akshaya Janakirana | Delhi Public School International |
| | Bronze | Mercy-Hadassah Tandoh | University of Ghana Basic School |
| | | | |
| Under 14 | Gold | Enock Nenyo Kpodzi | Great Stars Montessori |
| | Silver | John Allotey | BASICS International |
| | Bronze | Jeremiah Adjetey | BASICS International |
| | | | |
| Under 12 | Gold | Neequaye Jeffery | BASICS International |
| | Silver | Roy Edudzi | Emmanuel Presby School |
| | Bronze | Vincent Yartey | BASICS International |
| | | | |
| Under 10 | Gold | Tianjie Gao | Ghana International School |
| | Silver | Mawunyor Nutepe | Springforth Community School |
| | Bronze | Oscar Roberts | Ghana International School |
| | | | |
| Under 8 | Gold | Dave Acheampong Quansah | Jack and Jill School |
| | Silver | Sevor Eklenam | Springforth Community School |
| | Bronze | Elijah Tetteh | Queens International School |