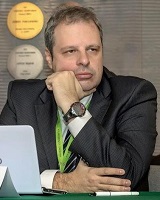 Theodoros Tsorbatzoglou is the Secretary General of the European Chess Union (ECU), a position he has held since 2014. He is also a member of the FIDE Planning and Development Commission (PDC).

Theodoros is a former chess player and FIDE Master. He was a member of various Greek Chess National Teams during his chess career which ended in 1993. Tsorbatzoglou retired from a professional chess career and started working as a chess trainer. Later on he obtained a FIDE Chess Trainer title (2010).

In 2008 he was appointed an Executive Vice President of Galaxias Sports & Cultural Club, and he is performing this duty ever since. Galaxias Sports & Cultural Club is a 6.000 m2 space of own Sports and Cultural facilities, including Volleyball Basketball, Chess Teams and Academies.
From 1996-2004 Tsorbatzoglou had been working as an Engineer, in Supervisions and Constructions Programs. At the same time, he worked as a Consultant on EU Educational & Funding Projects (Instructor in European Training Programs, 1998-2002. Later on he performed as an E-Marketing and Conference Manager in Tourism sector (2003-2008). In 2008 he had been working as a Co- Producer and Host in Sports Educational TV Show Games Festival. In 2004 he established Event Consulting Co, a Marketing & Event Management Company. Until then Tsorbatzoglou organized more than 50 events, among which scientific conferences, corporate events, various sports events and a number of International Chess Events and World Championships. In 2005 he started a huge annual event with the brand name Games Festival. In 2013 he established Event Properties, a Real Estate Agency which is still developing and facing the new professional challenges.
Theodoros holds a Masters Degree in Engineering and completed a paper in Business Administration. Serving in Hellenic Army 1996-1998 he got a Diploma in "Hermes" Telecommunication System. (NATO's communication system). The also has a Certificate in E-Trade & Internet Marketing, with Special Training for European Union Programs and Funds. He is fluent in Greek and English, and has a working knowledge in Russian.