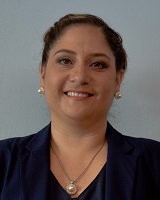 Carolina Munoz Solis is a Lawyer and Public Notary (2004), chess arbiter, Sport Manager, FI, WIM and former member of Costa Rica Chess Federation Board – which has given her different perspectives of the chess enviroment.
Experience:
Arbiter

FIDE Arbiter (2009).
International Arbiter (2015).
Chief Arbiter in Individual and Team Costa Rican National Championships, including Rapid, Blitz and Blind and Low Vision Championships.
Chief Arbiter in International Tournaments, including Sub Zonal 2.3.c Open and Female Championships (2018).
Arbiter (including CA and DA) in Pan- American and Continental Championships.
Arbiter in 4 World Championships (2017-2018): Amateur, Rapid and Blitz, U20 Girls.
Chess Organization
Sport Manager, Costa Rica University (UCR)- International Centre for Sports Studies (CIES) (2018).
Project Manager Youth Pan- American Chess Championship (2017).
Former member of Costa Rica Chess Federation Board (2015-2018).
Chairman of Costa Rica Arbiter Commision (2013-2015, 2019).
Member of Costa Rica Women Players Commision (2018-)
Player
WIM (2008).
4 times National Female Champion.
Former member of Costa Rica Female Chess Team (1996-2013)
Academic Training
FI (2015).
Lecture in Costa Rica Arbiter Seminars since 2013.
I have taken Seminars about chess arbitration, chess
training, sport organization, Project Manager acording with PMBOK

Language: Spanish and English.