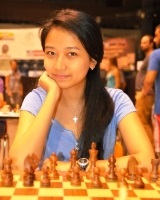 Irene was appointed as Councillor of the Planning and Development Commission in 2020 under the presidency of Mr. Arkady Dvorkovich.
Irene is Indonesia's first Woman Grandmaster and female International Master. She has represented Indonesia at five chess olympiads, winning a silver medal for her individual performance in Calvia 2004. Irene won the Asian Continental Championships in 2012 and 2014 which led to her qualification and participation in the Women's World Championship in 2015 and 2017 respectively.
Irene hold a Bachelor of Arts in English Literature from Gunadarma University, Jakarta, Indonesia and a Master of Arts in International Relations from Webster University, St. Louis, USA.
Irene has twice been recognised by Forbes for her achievements, being named as one of Indonesia's 10 Inspiring Women in 2016 and in the 30 Under 30 in 2019.